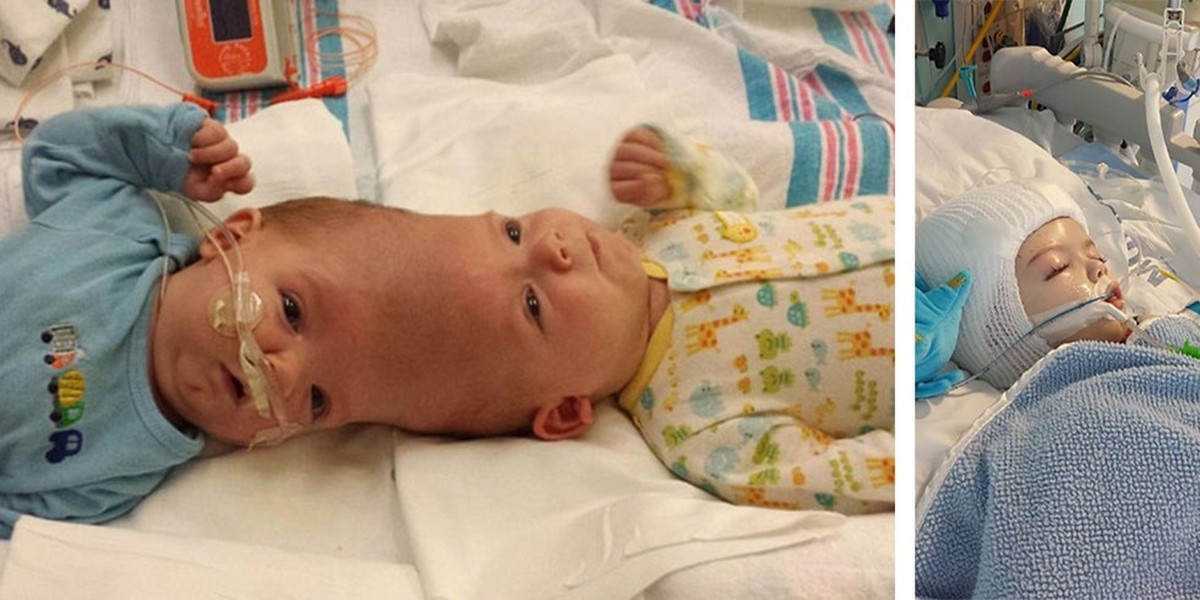 Nicole McDonald had just found out that they were to expect twins.
With some other troubling news that their twins were conjoined.
Worried with what might come next upon delivering these two baby boys, the parents were cautious as to what they might have to do in order for them to secure a future for their children.
They knew that there was going to be sever limitations as to what they could and couldn't do.
Making the difficult decision for their boys, they had decided to shell out the money for the surgery.
They did so in hopes their kids could have a better chance at a peaceful life later on into their adult years, even knowing well enough that this type of surgery could potentially lead to their children's deaths.
Christian McDonald states to CNN:
"We know that is definitely a real possibility, but we're still going to love our boys."
This type of conjoined twins is known as craniopagus twins and are one of the hardest types of conjoined twins for any doctor to take the daunting task to operate on.
It's also important to keep in mind that 40 percent of these kinds of conjoined twins are born as ;still born' with an even more horrifying statistic of 80 percent of them dying before they even get to be 2 years old.
Dr. James Goodrich is proclaimed to be the national expert within this field of medicine.
Luckily, what gave the parents even more hope for their children, is that Dr. James Goodrich has already operated on seven sets of conjoined twins.
To which he stated to CNN about separation surgery:
"It's actually pretty awesome.
It's chaotic.
You're trying to get two kids on two tables...
The problem is when you have nothing holding the brain in because the brain can actually slip and fall out.
So, it's quite a treat to get them re-positioned."
2.
5 million dollars went into the twins surgery, but before they even got to the final stage of this process, the twins had to go through 3 separate surgeries that would ensure that they both had enough skin by the final surgery so that they would be able to cover up their entire scalps without any problems.
They were able to do this by inserting tissue expanders within their heads.
Goodrich states:
"
This is about as complicated as it gets."
The morning of Oct.
14, 2016 the twins were wheeled into their last surgery that was going to take approximately 16 hours worth of undivided attention and precision.
Just as it only took Jadon a shorter time period on the operating table, his brother, Anias, had to remain in the surgery room for an extra 5 hours due to how much more complicated the surgery became.
With the last update from their mom on Facebook, Nicole states:
"
Finally reunited.
How surreal.
I now realize that I always saw you as separate because seeing you like this is really nothing different to me.
When I stand at your bedside, Jadon, it's almost as if Anias is still there.
Anias, when I leaned over you I protected my hair from Jadon.
But the view is still the same.
This is how I always saw you.
I love you so much.
Now it's time to step forward into the new chapter of our life.
I'm ready to fight and I know you are too.
Thank you, Dr Goodrich, Dr Tepper, Kamilah, Martine, Dr Kahana, Dr Mann and everyone else at Montefiore.
Your hands performed a miracle today.
We love you."